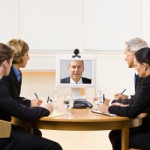 Meetings make the business world vibrant and productive, but sometimes circumstances prevent your team from coming together in one location. With Video Conferencing services from QCC, your team can be more productive and more efficient than phone calls will allow. Your business sees better results from face-to-face communication and the improved technology provides an avenue for your team to work more closely than ever.
Whether your business operates in VA, MD, DC, or PA, QCC can design and fully install an entire Video Conferencing system at your workplace–tailored to fit your specific needs. Whether you require a fixed system or the flexibility of a mobile system, our team can assess your needs and respond with a customized set-up to match the demands of your business. Share presentations, documents, files, and diagrams with both conference parties. Our Video Conferencing systems are not only designed specifically for you, but they provide a service that is user-friendly and cost-effective, which serves your bottom line.
If you're worrying about the technological difficulties of video conferencing, we can put your mind at ease. Our team can train yours in order to maximize your conferences. We can save you valuable time in learning the system, potential travel costs, and the expense of lost time. Let QCC handle the technical concerns, and spend your energy focusing on your business.
Stop wasting time settling for phone communication that's less than adequate. Integrate QCC's Video Conferencing services into your business communications today.