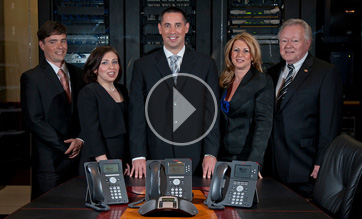 With today's fast-changing communication systems, a successful business needs someone to turn to for solid advice, product selection and quality service. Wouldn't it be great to rely on just one company to manage your voice, data and security with a fully integrated approach?
Absolutely. And you can. With QCC.
For more than a decade, Mid-Atlantic businesses have found one company that seamlessly manages all aspects of their communication needs. Over 2,000 customers, significant maufacturers' awards and business media have celebrated the QCC approach of Connecting Business With Progress.
QCC provides area businesses with high quality products and "beyond expectations" service. This customer-centered approach has allowed us to serve hundreds of clients repeatedly as needs change or relocations occur. For us, repeat and referral business is the greatest measure of accomplishment.
The one constant in the telecom and security business is people. QCC people are expected to go the distance for our customers, and have for years. We set the bar high with every project, regardless of size or scope. Our staff of experts undergo extensive training, routine evaluation and customer satisfaction review to keep us on our toes and ready for our next customer.
We firmly believe, as do thousands of our customers, that QCC people are the difference between working with a company and having a partner focused on trust, knowledge and integrity. We are proud of the standards we set and the results we provide for QCC.
President & CEO


Lee Barnes founded QCC as Quick Connect Communications in 2001, and continues to play an active role in the company as President and CEO. A veteran of 18 years in the telecommunications industry, Lee spent much of his career as a technician, garnering practical experience as well as over 65 telecommunications certifications, 10 security certifications, and multiple data certifications. As such, Lee remains an integral part of QCC's service operations. Before beginning his career in telecommunications, Lee served for 6 years as an NCO in the United States Air Force. He was an Honor Graduate from the United States Air Force Security Police Academy, and earned both the Top Gun Award and the Air Force Commendation Medal.
– Lee Barnes
Service Manager


Greg Sandruck is the Service Manager for QCC, and oversees the entire Service Department. He has over a decade of experience in telecommunications, having begun his career as a technician. He has a strong base of practical knowledge, and is an Avaya Certified Support Specialist. Greg also has formal training in data communications, and a background in freelance software development and web design.
– Greg Sandruck

Accounting Services Manager


A long time QCC customer while with Johns Hopkins, Bill Brandt was brought into QCC as Accounting Services Manager in 2006. A lifelong telecommunications veteran, Bill served 15 years as translations engineer for Bell Atlantic, where he developed Automatic Translation Input Software (ATIS). He then spent the next two decades as Manager of Telecommunications and Repair at Johns Hopkins Medical Institutions, where he oversaw the entirety of their multi-site configuration.
– Bill Brandt