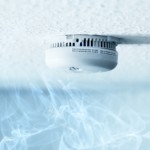 Few things have been more frightening in human history than fire.  In minutes, a fire can eliminate decades of work and cause millions of dollars in damages.  With QCC Fire Systems, your office will be prepared for and protected from the ravages of fire and your investments, time, and personnel will be secure.
QCC will install smoke/heat and carbon monoxide detectors, as well as pull stations for employees. Technicians will also install siren and strobe units and sprinkler systems to help alert emergency officials and assist your workforce out of the office.  But your hardware installation is just the beginning. Active monitoring services ensure your business is protected around the clock.
You know the significant investment and years of hard work it took to get your business to where it stands today. You are also responsible for the immeasurable value of the human lives under your charge in the work environment.  Although equipment can be replaced, it can cost you time and money to recover from such an event. Fires can disrupt schedules and timetables upon which your clients depend.  They can also cause significant distractions by damaging necessary networks and equipment.
With QCC managing your fire safety, you can be confident that your business is prepared to combat a fire before one ever starts.