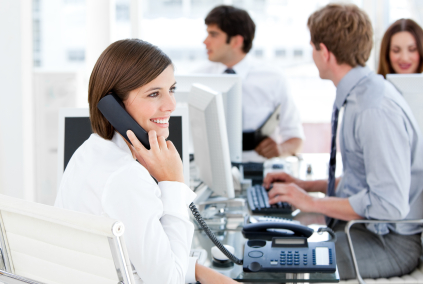 As a small business owner, competing with large corporations can be difficult. They have enormous staffs, state-of-the-art communication systems, and an image that makes them trustworthy in the eyes of the consumer. Now you can make your small business compete on all three of those levels with Hosted Cloud Phone Systems from QCC.
When callers contact your business , they'll hear an automatic receptionist place their call through a company directory of extensions – just like when they call a big brand-name corporation. Because these systems can be tailored to ring in different locations or on separate office or mobile phones, you'll never miss a customer call again.
With hosted cloud phone systems, you don't have to install an expensive physical phone system onsite. You can take advantage of high quality voice systems that can be accessed from anywhere. Because the calls are handled through the cloud, you'll watch your price for phone services drop sharply—while doing more for your business. And because operating costs are lower, you can enjoy the benefits of having one low, flat rate for your phone services, regardless of how much you use the cloud-based phone systems.
Upgrade your business to operate in the fast-paced world of 21st century telecommunications with hosted cloud phone systems from QCCUSA.com. Contact us today for more details on how you can improve your communication systems today.